NBA Odds
NBA Finals Odds: Suns Tie Things Up With Bucks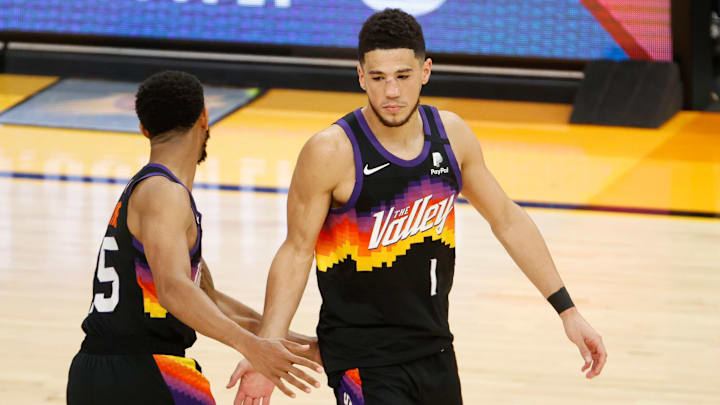 Devin Booker has the Suns contending for a championship. / Christian Petersen/Getty Images
The Phoenix Suns are finally favorites to win the NBA title. Technically, they are tied with the Milwaukee Bucks as the favorite, but Phoenix is at the top of the standings after winning Game 2 of the Western Conference finals. 
The climb to the top has been a slow climb for Phoenix. At the beginning of the playoffs, WynnBET gave the Suns +1100 odds to win the title. They are +110 after last night. 
Phoenix is tied with Milwaukee at the top, who's also seen a jump in its odds. Milwaukee began its run at +600 and will likely see another jump if they take care of business against Atlanta.
Although the Los Angeles Clippers could say they have the Suns right where they want them being down 0-2, as Los Angeles has been down 0-2 in both series, Phoenix is doing all of this without Chris Paul. Also, Paul is out due to the league's COVID-19 protocols rather than injury, so he should be able to step in and pick up where he left off given that he has been asymptomatic.
With the Suns becoming the favorite, Devin Booker's odds for Finals MVP have also risen. Booker is now right behind Giannis Antentokounmpo, whose odds are set at +120. Booker has stepped up in Paul's two game absence, notching a 40-point triple-double in Game 1. 
Milwaukee took over as the favorites whenever it knocked off the Brooklyn Nets in Game 7. Brooklyn came into the playoffs as the favorite to win the title with +185 odds. However, injuries and Kevin Durant's toe being on the line on a potential game-winning 3 in Game 7 caused them to fall. 
With each team expected to make the finals, the current favorites are on a collision course that should be fun to watch play out.